I have instated two new programs that I think are going to be a lot of fun!
First is the new Modeling Program:
Model for DoodleBoop Designs
Do you enjoy having professional photos taken of your daughter? Do you like to accessorize her hair with headbands, hair clips and bows? Do you like freebies? Then you should sign up to become a model/client for DoodleBoop Designs!
DoodleBoop Designs (DBD) will send you FREE hair accessories for your daughter to model!
- Professional photos must be taken of the model/client wearing the item within 30 days of receipt. The name and location of the photography studio must be provided to DBD along with the date of when photos were taken.
- One photo per item must be provided to DBD with permission of rights to the photo.
- Permission to release the First name and age of model is given to DBD.
- Limit 2 accessory items per client.
- By agreeing to the terms you are entering into a binding contract. If these terms are broken by the client, DoodleBoop Designs (DBD) reserves the right to request items be returned in their original condition at the client's expense.
If you have questions, Please let me know!
Then there's the new Referral Program:
Referral Program
Save money on next purchase and earn free products by referring your friends to DoodleBoop Designs.
·
1 Referral - 10% off one item
·
2 Referrals - 20% off one item
·
3 Referrals - 30% off one item
·
4 Referrals - 40% off one item
·
5 Referrals – Free Product (up to $10 value)
This program allows you to receive discounts off your purchases and even earn free items!
When you refer a friend to DoodleBoop Designs, and they order from us, you get a discount.

For each person you refer that makes an order, you will receive 10% off your purchase.

When you reach 5 referrals, you will receive a Free Gift! ($10 value)
Make a purchase from

http://www.doodleboopdesigns.etsy.com

and you'll automatically be registered for the referral program. Tell your friends that they should purchase all of their hair and jewelry accessories from DoodleBoop Designs! I've included a card below that you can print and hand out. Be sure to fill in your name on the "Referred By" line. When they make an order, your referral will be recorded and you'll receive a coupon code for use on Etsy (single use only). Referrals will only be accepted when given at the time of ordering. The friend MUST mention your name when placing their ordering or that referral won't count!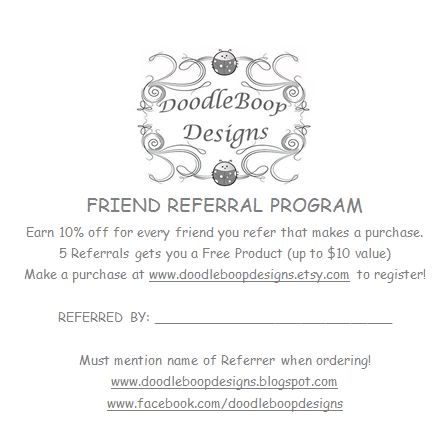 I can't wait to see what you all think of these new programs and I'm excited to get started!